MARS is the warrior ACTOR in the MILKY WAY.

The MAPUCHE has a cycle of 60,000 years,
so does MARS.

MARS was the warrior god for the Greeks and there are many words in MAPUZUGUN and GREEK, which mean the same and sound the same or have the same root structure. A chilean linguist, Lonko Kilapan, discovered these similarities between MAPUZUGUN and GREEK and he wrote a book titled: THE GREEK ORIGIN OF THE MAPUCHE; I believe this discovery was amazing but his conclusion quite off the mark!!!

I came to think this way because a friend of mine asked me what were my thoughts about Lonko Kilapan's conclusions, and i remembered Wilson's arguments, a cartographer who followed Plato's description of the Atlantis and landed in the heights of THE ANDES, in the ALTIPLANO; doing the same thing that Heinrich Schliemann did when he read Homer to find TROY; which was just a myth, according to academia and the officially accepted version!!!

According to Plato's writings, the Atlantis was a great civilization; legend says became obsessed with power and destroyed itself. Plato insists in his writing that he is really talking about a civilization that if it did exist would have flourished when still elephants roamed the amerikas; where the rulers became so greedy for power that somehow brought an awful calamity to the land. We know now that there are temples submerged in the great Titicaca Lake up in the ALTIPLANO.
We do not know more about this because BOLIVIA is so poor, specially after the war with Chile, the WAR OF THE PACIFIC (sic), where Bolivia lost the ocean that only 2% or 3% of her archeological sites have been explored, there is no funding for this.
Coming back to Plato's insistence that he is not talking nonsensical stuff but true accounts: "Then listen, Socrates, to a tale which, though strange, is certainly true" Plato is talking about the Atlantis. According to the available records, there were no civilisations in Egypt or in Greece in 9,600BC, nevertheless Plato says that Greece was founded when the Atlantis was destroyed; which is the same date he uses for the wars between Atlantis, Greece and Egypt; around 9,600BC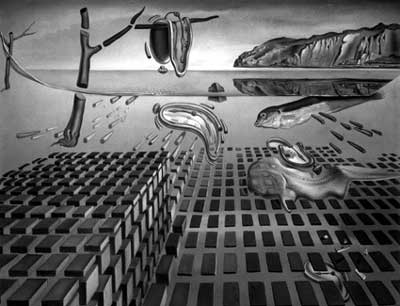 Dali - Disintegration of the persistence of memory (1952-1954)

Wilson a cartographer decided to follow Plato's description of the Atlantis as if it was a geographical location; as a cartographer this is his forte. Wilson discovered that the rectangle of the ALTIPLANO is the only one in the world in size, which coincides with the measures given by Plato. Water was more abundant in ancient times in the ALTIPLANO, the two great Lakes Titicaca and Poopo were joined to the Pacific Ocean. Wilson points out that in Nahuatl A T L means water and in Quechua A N T I S means copper. Although water is long gone from the ALTIPLANO, minerals are still abundant, this includes copper. There is an alloy only found in Bolivia which fits the description Plato gives about a metal only second in value to gold; an alloy made of gold and copper, that shines like gold, it is malleable like gold but strong as copper.

So the point I am trying to make is that his-Tory
is just a tale told by those in power, to perpetuate
myths of superiority . . .
how come there are traces of Tobacco and Cocaine in the mummy of Rameses II (1279-1213 B.C.)?
how come there are so many words in common between MAPUZUGUN and GREEK?
how come we know that Troy was real and that it was found by a dreamer, following a legend … but academia is not prepared to seriously contemplate the fact that the Atlantis was ancient South America?
Let alone, to consider that the rulers of this great empire might have conquered the power to make a CATASTROPHIC EXPLOSION?
how come we are so proud of our Greek tradition - we reason - but are not prepared to believe one of its most famous philosophers, PLATO, when he tells us, this story is weird but it happened?
As a former never-academic biologist scientist
i could say only one thing for certain
and one thing alone:

anything is possible!
As a nonacademic self-taught philosopher,
i could say one thing and one thing only:

there is nothing new under the sun !

MAYBE, MAYBE "THE SUPERIOR WEST" IS ONLY THE DEBRIS OF SOMETHING BIG THAT WAS ON EARTH BEFORE; MAYBE THE ANCIENT NATIONS DID REALLY INVENT CALCULUS AND NEWTON ONLY STUMBLE WITH ITS PRINCIPLES AGAIN MANY THOUSANDS OF YEARS LATER; MAYBE WE HAVE DESTROYED OURSELVES IN THE PAST, SO LONG AGO THAT WE FORGOT AND WE WILL DO IT AGAIN; MAYBE THIS TIME IT WILL BE THE LAST TIME AND WE WILL BURN IN HELL, WHEN WE FINALLY UNLEASH ALL METHANE DEPOSITS AND BURN OUR BEAUTIFUL AND PLENTIFUL EARTH TO THE GROUND ... MAYBE !
i have been fascinated by the image of hell since i was very young ... i had many nightmares and fears about h e l l ...
later on in life i started to ask myself
where does the image of hell come from?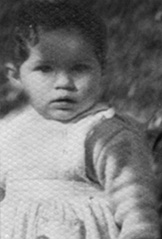 la pajita
now i know and it will be brought to us by burning OIL, Middle East oil, texan oil, Mexican oil, South American oil and whatever other oil the 'masters of illusion' can stick their bloodied hands upon!

the end is just around the corner and it will come from our MOTHER EARTH HERSELF, we will eventually unleash methane and the rest won't even be his-Tory because ALL WILL BE GONE; this is why when we think about hell, we have this image of people living in an oven like environment because this is exactly where we are going:
more OIL,
more atmospheric carbon,
more carbon,
higher temperatures,
higher temperatures more forest fires,
more carbon,
higher and higher temperatures,
AMAZON JUNGLE FIRES,
ocean floors become unstable,
Antarctic and arctic deposits
of methane become unstable,
methane DEPOSITS unleash,
oceans boil, all forests and jungles on fire
higher and higher and higher temperatures
the cycle of hell continues until,
EVERYTHING BURNS TO THE GROUND,
not even Dante imagined how
hellish hell REALLY IS ! ! !
and all this just to maintain the life style of a group
of totally psychotic profiteers.
We are in serious trouble ! ! !

< top >

i knew there was a 60,000-year cycle in the worldview of the MAPUCHE i didn't know mars' cycle was also 60,000 years !
i knew the MAPUCHE is a WARRIOR RACE ... i knew MARS is a WARRIOR PLANET
* * *
From Sergio Neira
INCHE TA LEVTRARU - I AM LAUTARO
For a MAPUCHE time doesn't exist if one lives with no dignity. Time doesn't exist without freedom. There is no time without love for the Earth. Time doesn't exist, peace time, if one doesn't fight to recover the stolen and fertile mother, stolen by the huinca, whom to this day has only changed uniforms and weapons.
There is somebody as obstinate as time:

THE MAPUCHE NATION.

From PABLO NERUDA
GENERAL SONG
The blood touches a gallery of quartz
The stone grows where the drop falls
This is how LAUTARO is born of the EARTH
< top >


MAPUCHE
MAPUCHE DREAMTIME

2 giant snakes, KAI KAI & TRENG TRENG,were furious against each other and enter into combat.
Kai-kaivilu started to raise the waters and Treng-trengvilu started to raise the hills to provide the Mapuche with safety, to provide land away from the raising waters. The more Kai-kaivilu rose the waters the more Treng-trengvilu rose the mountains. Many Mapuche drowned during this fight but Treng Treng transformed them into fish and rocks so that they could live in another form. This is why Mapuche have family lines that relate to Fish, Birds, Rocks, NATURE.
Finally the war was over, Kai Kai abandoned the combat and submerged into the ocean.

< top >
claudia raddatz
>>>>>>>>>>morgana nawelbuta from her ruka>>>>>>>