Acceptance Speech
First we'd like to thank Mars Patent, the most visited site on the internet (last count 1023456790 visitors) for their foresight and vision in allowing artists to use the HRM_1.On to exhibit their work on Mars.
We'd also like to say what a credit it is to Mars Patent and its founders, Helene von Oldenburg and Claudia Reiche, that this powerful instrument has been used for art and not world conquest or NASA probes.
It's a great achievement for Mars Patent that they were the first to 'arrive' on Mars.
We are very happy to be in space in such great company. And we hope that making public (please whisper ->) the legend of the arm will inspire future generations of women to continue to make art "which does not fit on Earth but tends towards the MES."
We appreciate Helene's and Claudia's generosity in pledging this prize, and we are thrilled that it was awarded to us. The plaque will have a special place on our mantlepiece in Coogee, Australia. Brass is our favourite metal.
Maria + Norie
The Out-of-Sync Collective
www.out-of-sync.com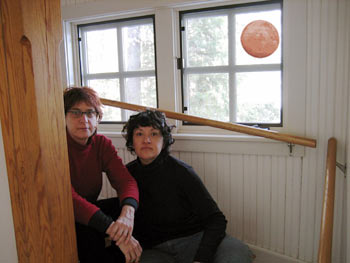 Oldenburg-Reiche Prize